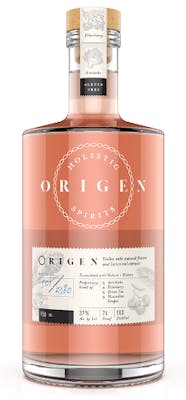 SKU: 7371
Origen Vodka
---
---
Naturally pink from an infusion of raw plant extracts, Origen is velvety and delicate with subtle cherry fruit notes and a floral bouquet. Origen opens with notes of gentle olive fruit and a hint of salinity with a rounded floral backbone, followed by a balanced acidity carrying through with light vanilla on the finish. Drink it neat, sip it over ice, or stir it into your favorite cocktail.
Hand-stirred and artisanally crafted from Italian heirloom white wheat at the award-winning McClintock Distilling in Frederick, Maryland, one of the country's premier small-batch distilleries.

Are you 21 years old, or older?