The Glenlivet Single Malt Scotch Gift Set With Two Glasses 12 year old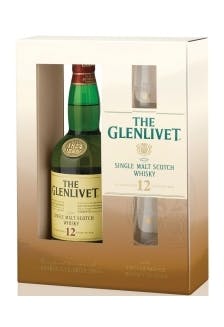 Two centuries ago, the illicit whisky from the remote and wild region of Glenlivet was sought after for its smooth and characterful qualities. The defining fruity 'pineapple' note from the sma' stills lives on to this day in George Smith's definitive legacy of The Glenlivet. The Single Malt That Started It All.
Wine EnthusiastOff-dry malted barley and light toffee smells greet the olfactory sense along with flowery fragrances of heather, rose petal and pine. Entry features sweet grain and candied apricot tastes; the midpalate is mellow, malty, fruity (white raisins, apricots) and sophisticated. Ends on a buttery note. Remains the Speyside benchmark.